The neck is often the first area to show the signs of aging. As we age, our skin begins to lose its collagen and elasticity. As skin on the neck becomes loose and wrinkly, it creates what many people refer to as a "turkey neck" appearance. Unfortunately, sagging neck skin cannot be fixed with diet or exercise, making turkey neck particularly difficult to treat, until now! We have a solution - Ultherapy using ultrasound technology.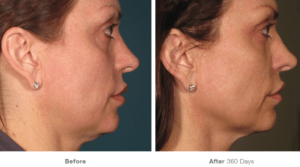 Effective Non-Surgical Treatment for Turkey Neck
Surgery used to be the only way to tighten and lift sagging skin. Fortunately, other non-invasive methods are available today like Ultherapy, a safe, non-invasive treatment for turkey neck. It is the only FDA-approved non-surgical treatment for tightening and lifting the skin on the face and neck. This procedure effectively counteracts the natural effects of time and gravity. In fact, Ultherapy can remove as many as five or more years from your appearance.
Ultherapy uses focused ultrasound energy to stimulate new collagen growth deep within the skin. As new collagen is produced, loose skin is lifted and tightened. This results in a younger, rejuvenated appearance. Ultherapy is so effective that results continue to improve for three to six months following the procedure.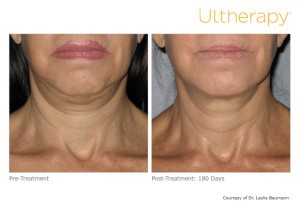 Ultherapy Procedure
Ultherapy takes approximately one hour to complete and requires little to no downtime. While mild discomfort is normal during the procedure, it is only temporary and signals that the collagen-building process has begun. Patients that receive Ultherapy are typically able to return to their normal activities soon after the procedure. Thanks to a new software upgrade, Ultherapy is now a much more comfortable experience for our patients, although we do offer pain medications if a patient requests it.
Ultherapy is extremely safe. The use of ultrasound energy allows our dermatologists to see the layer of skin that they are treating. This makes it possible for them to completely avoid nerves and bone.
Dermatology Practice in Maryland
The Chevy Chase Cosmetic Center is a full service dermatology practice with two locations in Maryland. Our experienced board-certified dermatologists specialize in non-surgical cosmetic treatments. We have performed hundreds of Ultherapy procedures with stunning results. Please contact us to schedule a complimentary consultation to see if Ultherapy might be the right choice for you.