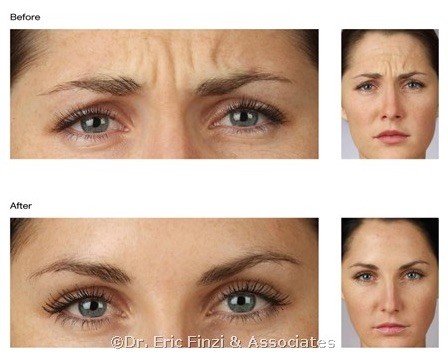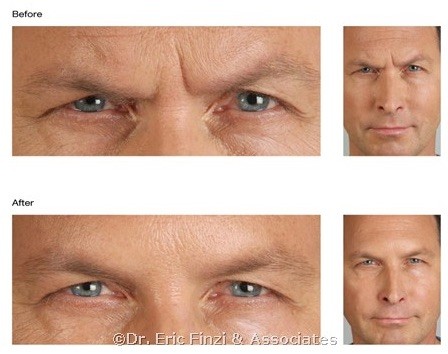 Botox Cosmetic®, one of the most sought after cosmetic procedures today, is an injectable treatment that temporarily improves the appearance of moderate to severe lines and wrinkles on the face. Many wrinkles are actually creases that have been worn into the skin by making the same expression thousands of times. These "expression lines," often called frown lines or crow's feet, are due to the contraction of a muscle under the skin in that area. The Botox will paralyze the muscle, removing the wrinkles and smoothing out lines for a more youthful appearance. Come in for a complimentary cosmetic consultation with a member of our dermatology team to see if Botox Cosmetic treatment is right for you.  
Botox to Treat Depression Research Findings
Dr. Eric Finzi's latest study published in the May 2014 edition of Journal of Psychiatric Research reports that patients injected with onabotulinumtoxin A (commonly known as Botox) demonstrated substantial improvement in their depressive symptoms. In the largest randomized, double-blind, placebo controlled study to date on the effect of  Botox on depression, researchers Dr. Finzi and renowned psychiatrist Dr. Norman E. Rosenthal found that more than half of subjects suffering from moderate to severe depression showed a substantial improvement – 52% - in their depressive symptoms as measured by the MADRS scale.  For more information, go to BotoxForDepression.com
About the Botox Cosmetic® Procedure
Botox Cosmetic is administered in-office by a practitioner who uses an ultra-fine needle to inject botulinum toxin type A into the glabellar (between the eyes), and/or crow's feet, around the eyes. The treated areas are cleansed thoroughly and a cold compress is applied for a few minutes before treatment. After the injections, a cold compress is again applied to relieve any discomfort or swelling. Patients are advised to keep their head level for up to 6 hours after treatment. You will see optimal results 3 to 7 days after treatment.
Frequently Asked Questions about Botox Cosmetic®
What is Botox Cosmetic®?
Botox Cosmetic® is the brand name of botulinum toxin type A that has been in use since 1990. Although Botox® is a toxin, there have been no serious side effects since it is used in extremely small amounts and does not spread throughout the body.
Where can Botox Cosmetic® be injected?
The most common areas to receive Botox Cosmetic® are the frown lines between the eyebrows, the horizontal frown lines, and the crow's feet.
Does the injection hurt?
When Botox Cosmetic® is injected there is an initial minor sting for a few seconds. Once the injection is complete, there is usually no discomfort.
How long does a Botox Cosmetic® treatment last?
Each treatment usually lasts 3 to 5 months, at which time another treatment is required. After several treatments, the effects of Botox Cosmetic® may begin to last longer, sometimes up to 6 to 8 months. Come in for a complimentary cosmetic consultation with a member of our dermatology team to see if Botox Cosmetic treatment is right for you.
Call  Chevy Chase Cosmetic Center 240-482-2555 for an appointment in Chevy Chase or 301-345-7375 for Greenbelt today!   Or fill our our contact form below.