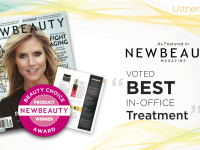 Ultherapy is the only FDA-approved non-invasive procedure to lift and tighten the skin on the brow, neck, under the chin and chest. Ultherapy uses ultrasound to stimulate the production of new collagen and elastin deep within the skin. This procedure effectively tightens the skin and corrects textural issues such as fine lines and crepey skin. Ultherapy is the perfect choice for anyone looking to lift and tighten skin tissue, without having any downtime.
Ultrasound has been safely used in the medical field for over 50 years. Ultherapy has been deemed as a safe and effective choice for skin tightening in clinical studies and in over half a million treatments worldwide.
Best Option for Skin Tightening in the Spring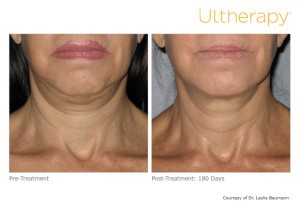 When performed in the spring, Ultherapy can help get skin vacation photo ready. It also helps protect collagen from sun damage. Over time, sun damage can cause sagging and the development of fine lines. This can add years to a person's appearance. Although a surgical facelift provides the most dramatic results, this type of procedure can be costly and requires an extensive recovery period. Ultherapy is an excellent alternative because it strengthens existing collagen, speeds up collagen production and tightens the skin with absolutely no downtime.
How it Works
Ultherapy works from the inside out. During an easy 60-90 minute session in our office treatment room, Ultherapy delivers focused ultrasound energy at just the right depth below the skin. The skin responds by stimulating the growth of fresh, new collagen and elastin. Ultherapy is safe and can be used to achieve a more youthful appearance from brow to chest.
Ultherapy is perfect for anyone looking to tighten skin without undergoing surgery. After the procedure, lifting and tightening can be seen gradually over 2-3 months. There is absolutely no downtime and normal activity can resume shortly after treatment.
Ultherapy Treatment in Maryland 
The Chevy Chase Cosmetic Center is a full service dermatology practice that specializes in non-surgical cosmetic treatments such as Ultherapy. Our board-certified dermatologists and physician assistants receive up-to-date training on all of the latest, most advanced techniques. We can help you look and feel your best this spring and summer!
If you are looking to get Ultherapy near NW DC Contact us for more information about Ultherapy and our other non-surgical cosmetic procedures. We offer complimentary consultations to see if Ultherapy is right for you.
Call 240-482-2555 for an appointment today!