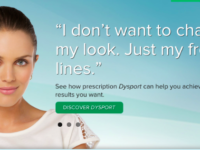 FREE Brow Lift
with *Ultherapy Treatment
$1,100 Value!
Ultherapy
is the only FDA-cleared, non-surgical procedure that lifts and tightens the neck, chin and brow, and improves lines and wrinkles on the chest by regenerating collagen. Ultherapy uses time-tested ultrasound energy to lift and tighten the skin naturally—without surgery or downtime.
Want to Lift Your Brow and Eyelids Without Surgery?
This month, we are offering a FREE Brow Lift valued at $1,100 with these select *

Ultherapy

treatment zones: full face with full neck to the collarbone, OR the lower face, cheeks and submental OR lower face with full neck to the collarbone areas.

Learn more and watch a video

of an actual patient having an Ultherapy treatment.
$50 Off One Area of Dysport - $350
$100 Off Two Areas of Dysport - $575
$150 Off Three Areas of Dysport - $775
**PLUS you may apply additional savings if you have accrued Aspire Rewards points. *If you're new to Galderma's Aspire Rewards program, you'll receive a $20 treatment certificate just for joining!
Wrinkles aren't your style and the "frozen look" isn't either. For adults who want a natural look, there's
Dysport,
an injectable wrinkle reducer proven to help smooth the appearance of moderate to severe frown lines between the eyebrows, forehead and around the eyes without changing the look or movement of the rest of your face. Untreated muscles still work normally, so you can continue to express feelings naturally. It's the lines that are minimized, not your expressions.
Learn more.
*New Aspire Rewards members may accrue, however, cannot use the $20 certificate with the $50 Aspire Rewards rebate offer on the same visit.
**Current Aspire Rewards members may use their accrued points in addition to the $50 rebate offer.
3 Chemical Peels Package: $450
It's time to get your skin in shape and book your post-summer
chemical peel
with our aesthetician
Irina
! You'll achieve better results with a monthly treatment plan. This month, purchase a package of three chemical peels for $450 - a savings of over $100! Irina sees patients on Wednesdays from 10am to 4pm in our Chevy Chase office. Call 240-482-2555 for an appointment today!
Want to learn more about different types of chemical peels?
READ
this article by The Spotlyte. Irina will personalize your chemical peel based on your skin condition, type and texture.
En Chevy Chase Cosmetic Center, nos esforzamos por brindar un servicio excepcional a todos nuestros clientes y creemos que todos tienen el derecho de discutir sus opciones de tratamiento de dermatología médica y dermatología estética con su proveedor. Nuestra asistente médica certificada por la junta, Mariella Purvis, PA-C, y nuestra recepcionista hablan español con fluidez, lo que hace posible que nuestros clientes de habla hispana hagan y cambien citas y discutan libremente las opciones de tratamiento.
Lee mas