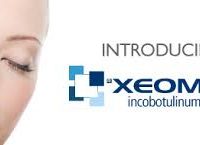 Modern cosmetic treatments have made it easier than ever to maintain a youthful appearance. In order to choose the most appropriate treatment, it's important to learn as much as you can about all available procedures.
FDA Approved Injectable Treatment for Frown Lines and Wrinkles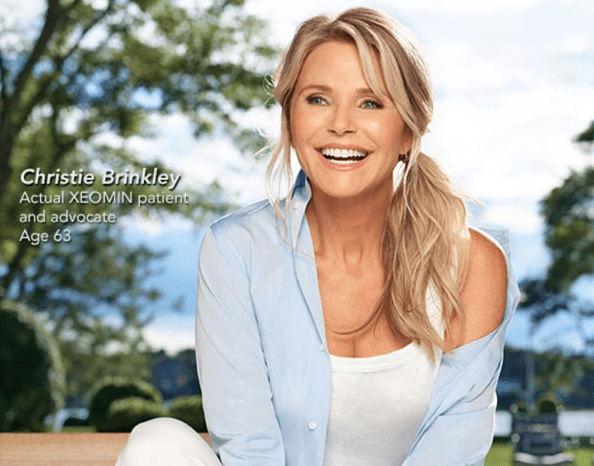 Xeomin is an FDA approved injectable prescription medication similar to Botox Cosmetic and Dysport. It is injected into the muscles of the face to temporarily improve the appearance of moderate to severe lines between the eyebrows, crows feet, and forehead.
Xeomin relaxes the facial muscles, reducing the appearance of lines and wrinkles for up to three to four months. Treatment takes approximately 10 minutes. No prep time is required for this procedure. A cold pack might be used to reduce swelling and discomfort of the injection site before and immediately following the injection.
Xeomin contains botulinum toxin type A; a protein purified from the bacterium Clostridium botulinum. It is specially formulated to eliminate the additives found in other injectable treatments. This might make an allergic reaction less likely.
Trusted Treatment for Frown Lines and Wrinkles
Many people trust Xeomin to reduce the appearance of frown lines and wrinkles, like Supermodel and author Christie Brinkley, who recently spoke about the benefits of Xeomin. The 63 year old ageless beauty combines Xeomin treatments with Ultherapy to maintain her youthful appearance.
"When it comes to my body, I don't compromise. Eating organic, yoga, being active – it's all part of staying healthy. I choose Xeomin because it is highly purified, FDA approved and clinically proven to temporarily smooth frown lines. I just love it!"

– Christie Brinkley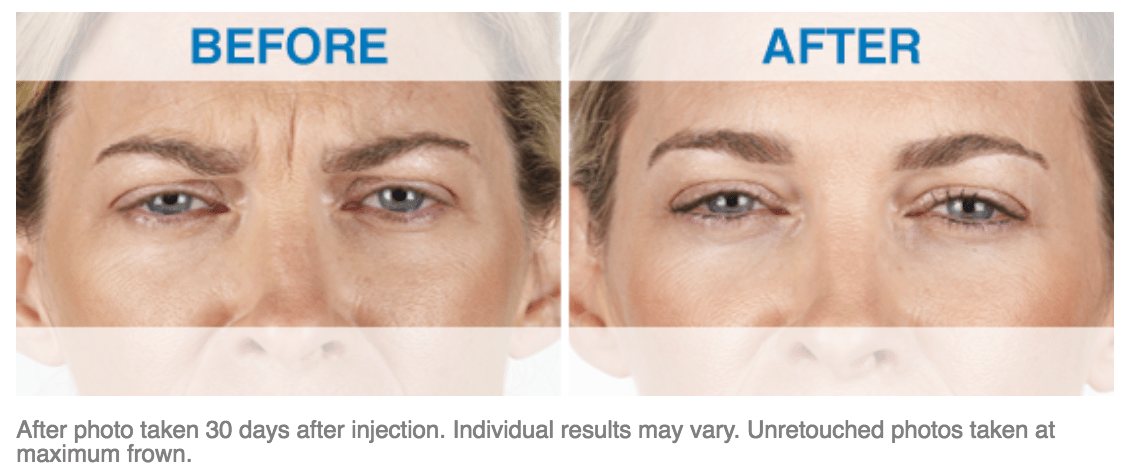 Safe, Effective Cosmetic Treatment
Injectable medications provide an effective, safe, easy, outpatient treatment option for adults with moderate to severe lines and wrinkles. Results are typically seen 3-4 days after the procedure. Optimal benefits can be seen after 10 days. Results last approximately 3 to 4 months.
Xeomin should not be combined with other injectable wrinkle reducing treatments. It may be combined with cosmetic dermal filler treatments like Juvederm, Voluma, and Restylane. Talk to your dermatologist about your options.
Cosmetic Treatments in Maryland
Many patients are concerned that cosmetic treatments will give them a frozen, plastic or overdone appearance. Our licensed, fully trained, board-certified dermatology healthcare professionals are experienced with facial anatomy, and have performed thousands of injectable treatments. Our dermatology team will help you determine your best treatment options.
Chevy Chase Cosmetic Center offers a combination of Xeomin and Ultherapy treatments to address various aging skin issues. For more information about Ultherapy skin tightening using Ultrasound technology, please visit our Ultherapy page here.