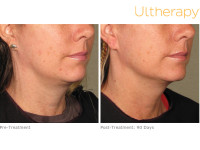 Ultherapy® is a completely safe, non-surgical, ultrasound treatment meant to turn back the hands of time and reverse the signs of aging skin. Ultherapy will counteract the effects of time and gravity on your skin using tried and true ultrasound technology to tighten and lift skin. Using the body's own regenerative processes, problem skin (on the eyebrow, under the chin, and on the neck) is lifted, gently and gradually. Ultherapy stimulates collagen production by delivering focused ultrasonic energy to the skin's foundational layer — no cutting required. Ultherapy is the only FDA-approved non-surgical way to lift, tighten and tone the skin on the face, neck and décolletage.
The non-invasive Ultherapy® lifting procedure precisely treats three distinct layers beneath the skin, including the deep connective tissue typically addressed in a surgical facelift. Ultherapy deposits focused ultrasound energy deep beneath the skin at the optimal temperature for collagen regeneration. The treatment jumpstarts a natural process, known as neocollagenesis, to produce fresh, new collagen. You will see natural, noticeable results in 2–3 months time. 

Care Credit financing is available.
Schedule An Ultherapy Consultation Today