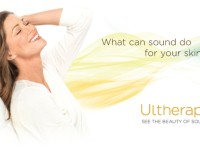 You've heard the buzz about Ultherapy. This revolutionary treatment technology was the first of its kind to be FDA-approved, the first to guarantee tighter, more lifted skin (and all without surgery!). You've heard us talk, time and time again, about how, after just 60–90 minutes spent in our Chevy Chase cosmetic dermatology office, Ultherapy stimulates the gradual production of new, stronger collagen.
You've heard it all — but have you heard:
When you combine Ultherapy with IPL, the results are astounding. Intense Pulsed Light™ (IPL™) is the gold standard for photorejuvenation. Specifically formulated to diminish the effects of aging, sun damage, acne scarring, and rosacea too, IPL therapy is the perfect complement to Ultherapy. Lift, tighten, and smooth. That's what will happen when you combine Ultherapy with IPL: gorgeous, smoother, younger-looking skin.
For a limited time only, Chevy Chase Cosmetic Center clients who undergo Ultherapy treatment in the month of August will receive FREE Intense Pulsed Light (IPL) Photorejuvenation therapy too — a $450 value! Act fast as the month is already over half way over! Contact us TODAY before this offer is gone!