An effective treatment for facial lines and wrinkles and FDA-approved for over 20 years, Botox Cosmetic is the most popular cosmetic treatment available today. It's so popular that the Botox brand is often referred to as the name of the treatment. Today, other wrinkle reducing botulinum toxins such as Dysport and Xeomin are gaining in popularity as the cosmetic aesthetics beauty market expands.
Botox lessens the signs of aging by softening the facial muscles causing the wrinkles. The results are aesthetically pleasing to men and women of all ages, increasing self-confidence and self-esteem simply by restoring a more youthful appearance. This quick in-office, non-invasive treatment can provide stunning results when provided by an experienced injector who is a board-certified dermatologist or licensed cosmetic provider. Because Botox is so popular, your dentist or general practitioner may now offer the service. A dermatologist specializes in skin health and in most cases, has the most experience treating all skin conditions.
Adults of all ages ranging from the 20s through 70s can benefit from Botox treatment. In older adults, Botox smooths moderate to severe lines and wrinkles around the forehead and eyes. In younger patients, Botox injections prevent wrinkles from forming and/or becoming more noticeable.
Because of the wide range of benefits and uses, dermatologists cannot recommend a specific age for starting Botox treatments. The decision to undergo treatment depends on a number of factors including the individual goals, facial expressions, and preferences of the patient. Patients considering Botox should discuss their options with a qualified cosmetic treatment provider.
Baby Botox
Although many people think of Botox as a treatment for Baby Boomers, an increasing number of Millennials and Gen X ers are using Botox as well. Known as Baby Botox, this popular injectable treatment can prevent the formation and deepening of wrinkles, keeping the skin soft and youthful.
When provided by an experienced dermatologist, Baby Botox can erase fine lines and prevent them from becoming deeper as you age. Baby Botox does not create the frozen appearance people often associate with Botox treatment.
Baby Botox treatment involves tiny doses of Botox injected into the brow and forehead with longer extended periods between treatments. Where older patients might need a higher number of units of Botox, Baby Botox use fewer units. This allows for uninhibited facial movements and a more natural appearance.
Botox Sprinkles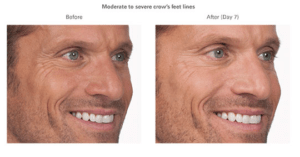 Millennials and beyond who want to look more youthful, but not frozen, opt for what's known as Botox Sprinkles. For older patients, sprinkling the Botox using low unit doses in multiple areas will retain some of the wrinkles but with a much softer look. Our dermatology team is experienced in treating men and women with Botox to reduce horizontal wrinkles in the forehead, crows feet lines around the eyes, and the "11" lines that appear between the eyes when a brow is furrowed. The results for older patients is a more natural looking youthful appearance. Friends, family, and colleagues will notice that you look more refreshed and well rested.
Botox Treatments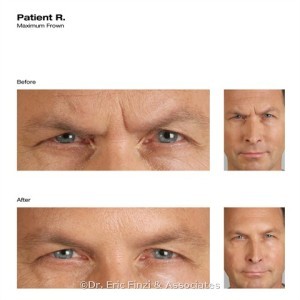 Botox temporarily improves the appearance of moderate to severe lines and wrinkles. This extremely effective cosmetic treatment works by paralyzing the muscles in the face. This smooths out lines and wrinkles, creating a more youthful appearance. Common treatment areas include frown lines and crow's feet.
Botox is one of the most sought after cosmetic treatments available today. In addition to women in their 20s, 30s, 40s, and 50s, studies have found that Botox treatment is becoming extremely popular among Baby Boomer men. This is due in part to increasing demand for men to look younger in the workplace. This simple procedure can increase confidence and improve the chance of success in a competitive business environment.
DC Area Botox and Other Popular Cosmetic Treatments
Chevy Chase Cosmetic Center offers non-invasive cosmetic treatments to adults of all ages. Our experienced dermatology team works directly with each of our patients to listen to their concerns, evaluate their needs, and develop a comprehensive treatment plan. Often times, patients need a combination of treatments to obtain their optimal results.




The anti-aging injectable in-office treatments we offer include Botox Cosmetic, Dysport, Xeomin, Restylane, Juvederm, and Voluma. We also offer a variety of other treatments that can be used with injectable wrinkle reducers and cosmetic dermal fillers to complement and enhance your appearance. Our most popular is Ultherapy skin tightening using Ultrasound technology to lift the skin and rebuild collagen.
If you find you're becoming more concerned about the effects of aging on your skin and overall appearance, the board-certified dermatology team at the Chevy Chase Cosmetic Center can help. Contact us to learn more about Botox and other treatments. We will be happy to set up a consultation to discuss your cosmetic treatment options.