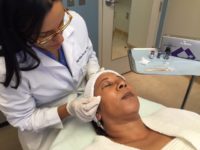 En Chevy Chase Cosmetic Center, nos esforzamos por brindar un servicio excepcional a todos nuestros clientes y creemos que todos tienen el derecho de discutir sus opciones de tratamiento de dermatología médica y dermatología estética con su proveedor. Entendemos que esto puede ser difícil para nuestros clientes de habla hispana, por lo que queremos informarle que contamos con personal de habla hispana para ayudarlo. Nuestra asistente médica certificada por la junta, Mariella Purvis, y nuestra recepcionista hablan español con fluidez, lo que hace posible que nuestros clientes de habla hispana hagan y cambien citas y discutan libremente las opciones de tratamiento.
Asistente Médico Certificado por la Junta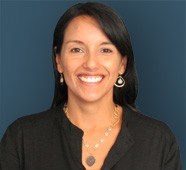 Mariella Purvis, PA-C, ha estado practicando dermatología en el área metropolitana de Washington, DC por más de diez años. Mariella diagnostica y trata una amplia gama de afecciones que incluyen cáncer de piel, melasma, acné, psoriasis, eczema, erupciones cutáneas, verrugas y otras afecciones de la piel en pacientes de todas las edades. Realiza una amplia gama de procedimientos de tratamiento médico y cosmético, incluido el tratamiento con láser IPL antienvejecimiento del daño solar, rellenos dérmicos cosméticos Juvederm y Restylane, y reductores de arrugas Botox Cosmetic, Dyport y Xeomin. Mariella también realiza importantes procedimientos de diagnóstico que incluyen biopsias, criocirugía y extirpaciones de cáncer de piel.
Con fluidez en español e inglés, Mariella Purvis se asegura de que sus pacientes entiendan completamente sus opciones de tratamiento y los procedimientos elegidos. Esto lo coloca en la mejor posición posible para tomar decisiones importantes sobre la salud y el cuidado de su piel. Ella ve pacientes en el Centro Cosmético Chevy Chase en Chevy Chase, Maryland, y en los Asociados de Dermatología y Cirugía Cosmética ubicados en Greenbelt, Maryland.
Servicio Completo de Práctica Dermatológica
El Centro Cosmético Chevy Chase ofrece una gama completa de servicios de dermatología para adultos y niños que viven en el área metropolitana de Washington DC y sus alrededores. Nuestros dermatólogos y asistentes médicos certificados por la junta tienen años de experiencia brindando atención médica de calidad para la piel. Trabajamos directamente con cada paciente para evaluar sus necesidades y desarrollar un plan de tratamiento personalizado. Nuestro amable personal explica completamente cada procedimiento, lo que permite a nuestros pacientes tomar decisiones informadas sobre su atención. Es este enfoque único de atención personalizada y tener personal bilingüe que habla español lo que distingue al Centro Cosmético Chevy Chase.
Además de una amplia gama de tratamientos y procedimientos dermatológicos, el Centro Cosmético Chevy Chase también ofrece una variedad de tratamientos cosméticos no invasivos. Estos tratamientos permiten a los pacientes quitarse años de su apariencia con poco o ningún tiempo de inactividad. El Centro Cosmético Chevy Chase ofrece el estiramiento de la piel Ultherapy sin cirugía, fotorejuvenecimiento con luz pulsada intensa (IPL), terapias con láser fraccionado para el rejuvenecimiento de la piel, reductores de arrugas y rellenos dérmicos de algunas de las marcas líderes en el mundo aprobadas por la FDA, incluidas Juvederm, Restylane y Voluma. En Chevy Chase Cosmetic Center, entendemos la conexión entre la apariencia y la autoimagen. Nos esforzamos por ayudar a cada paciente a alcanzar sus objetivos rápidamente y con un tiempo de inactividad mínimo.
Nuestro personal médico y dermatólogos certificados por la junta, incluida Mariella Purvis, PA-C, se comprometen a proporcionar resultados fantásticos al tiempo que mantienen la dignidad, el respeto y la privacidad de cada paciente. Comuníquese con nosotros para obtener más información sobre nuestros servicios o para programar una cita con nuestra Asistente Médica Mariella Purvis, PA-C.
Se Habla Español! We Welcome Spanish Speaking Clients at Chevy Chase Cosmetic Center!
At Chevy Chase Cosmetic Center, we strive to provide exceptional service to all of our clients and believe that everyone has the right to discuss their medical dermatology and cosmetic dermatology treatment options with their provider. We understand this can be difficult for our Spanish speaking clients and so we want to make you aware that we have Spanish-speaking staff to assist you. Our board certified Physician Assistant, Mariella Purvis, and our receptionist are fluent in Spanish, making it possible for our Spanish speaking clients to make and change appointments and discuss treatment options freely.
Board Certified Physician Assistant
Mariella Purvis, PA-C, has been practicing dermatology in the Washington, DC Metropolitan area for over ten years. Mariella diagnoses and treats a wide range of conditions including skin cancer, melasma, acne, psoriasis, eczema, rashes, warts, and other skin conditions in patients of all ages. She performs a full range of medical and cosmetic treatment procedures including anti-aging IPL laser treatment of sun damage, Juvederm and Restylane cosmetic dermal fillers, and Botox Cosmetic, Dyport and Xeomin wrinkle reducers. Mariella also performs important diagnostic procedures including biopsies, cryosurgery, and skin cancer excisions.
Fluent in both Spanish and English, Mariella Purvis ensures her patients fully understand their treatment options and chosen procedures. This puts you in the best possible position to make important decisions about your skin health and care. She sees patients at the Chevy Chase Cosmetic Center in Chevy Chase, Maryland, and at the Dermatology and Cosmetic Surgery Associates located in Greenbelt, Maryland.
Full Service Dermatology Practice
Chevy Chase Cosmetic Center offers a full range of dermatology services for adults and children living in and around the Washington DC Metropolitan Area. Our board-certified Dermatologists and Physician Assistants have years of experience providing quality skin health care. We work directly with each patient to evaluate their needs and develop a customized treatment plan. Our friendly staff fully explains each procedure, allowing our patients to make informed decisions about their care. It's this unique approach to personalized care and having Spanish speaking bi-lingual staff that sets Chevy Chase Cosmetic Center apart.
In addition to a full range of dermatology treatments and procedures, Chevy Chase Cosmetic Center also offers a variety of non-invasive cosmetic treatments. These treatments enable patients to take years off their appearance with little to no downtime. Chevy Chase Cosmetic Center offers Ultherapy skin tightening without surgery, Intense Pulsed Light (IPL) photorejuvenation, fractional skin resurfacing laser therapies, wrinkle reducers, and dermal fillers from some of the world's leading FDA-approved brands including Juvederm, Restylane and Voluma. At Chevy Chase Cosmetic Center, we understand the connection between appearance and self-image. We strive to help each patient achieve their goals quickly and with minimal downtime.
Our medical staff and board-certified dermatologists including Mariella Purvis, PA-C, are committed to providing fantastic results while maintaining the dignity, respect, and privacy of every patient.
Please contact us to learn more about our services or to schedule an appointment with our Physician Assistant Mariella Purvis, PA-C.