Laser Hair Removal: Light Sheer Diode Laser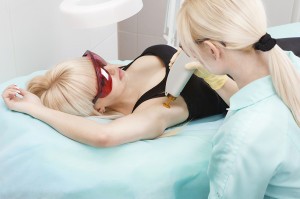 The Light Sheer Diode Laser is an FDA-approved laser therapy for permanent hair reduction, and it is a treatment for the removal of unwanted hair for both men and women of all skin types and tones. The laser removes more hair in a shorter time with less pain and higher reliability than any other hair removal techniques including plucking, shaving, waxing, depilatory creams--even electrolysis. The light emitted by the laser is absorbed by the pigment in the hair follicles, vaporizing the pigment and disabling several follicles at a time. This procedure eliminates or significantly impedes growth. Dr. Eric Finzi and Associates provide this safe, effective hair removal treatment for any area where visible hair is not wanted including face, legs, bikini area, underarms, neck, abdomen, chest, back, or shoulders. This laser works best on light skin and dark hair follicles.
Come in for a complimentary cosmetic consultation with a member of our dermatology team to see if the Laser Hair Removal treatment is right for your skin type and tone.
Call Chevy Chase Cosmetic Center 240-482-2555 for an appointment in Chevy Chase or 301-345-7375 for Greenbelt today!
About the Laser Hair Removal Treatment
A laser session may take a few minutes to two hours, depending on the size of the area being treated. Since the lasers work best on actively growing hairs while others lay dormant, several treatments are required to inhibit growth. Laser hair removal treatment may cause a slight tingling sensation that most patients tolerate well. In addition to applying ice for a few minutes before treating an area, the laser includes a special contact-cooling handpiece that cools the skin surrounding the treated follicles to minimize discomfort. However, for particularly sensitive places like the bikini area, we provide topical anesthesia cream for your comfort during treatment.
Immediately after a laser session, the appearance of the treated area(s) will vary from patient to patient depending on the extent of treatment and skin type. The after-effects, if any, are minor and may include redness and swelling which disappear in a short time. Most people return to normal activity right away.
Frequently Asked Questions about Laser Hair Removal :
How does a hair laser work?
The light emitted by the laser is absorbed by the pigment located in your hair follicles. The laser pulses for a fraction of a second, just long enough to vaporize the pigment, disabling several follicles at a time. This eliminates or significantly impedes the hair's re-growth. The laser can be used just about anywhere on the body, and usually requires no anesthesia or other treatment.
Can laser hair removal treatments be performed on all skin types and hair colors?
Yes. Dr. Finzi & Associates will determine if the laser is suited for your skin tone. Generally, the diode laser works best on light skin. The hair removal laser will not be effective to eliminate grey or light blonde hair.
How many laser hair removal treatments will I need?
Because the laser tends to treat hair follicles that are in an active growth phase, more than one treatment is required to disable hair follicles that subsequently enter the growth phase. Most patients are happy with the results achieved after 5 to 10 visits; however, some patients have excellent results after just a few treatments.
What other options exist for hair removal?
Shaving rids the body of hair, but has no effect on the re-growth of hair. Tweezing is slow, painful and impractical for large areas. Waxing may last up to a month, but is often painful and can cause unsightly skin irritation. Electrolysis involves inserting a needle into each hair follicle and applying an electrical current. It can only treat one hair follicle at a time and can be painful, time-consuming and can be very expensive. The laser covers a 1/4" diameter of skin and therefore is much more efficient and precise in removing unwanted hair.
How should I prepare for laser hair removal treatment?
It is very important that you do not wax, thread, or pluck hairs you wish to eliminate for up to one month prior to your first treatment. You may shave as often as you like.
Is the laser hair removal procedure safe?
Yes. Developed from years of research at Harvard University, the diode laser parameters are defined to inhibit the growth of hair without adverse effects. The actively-cooled handpiece was designed to conduct heat away from the treated area, making treatment less painful.
Does laser hair removal hurt?
As different areas of the body are more sensitive than others, it is possible you will feel a slight, quick, stinging sensation. Some describe the effect like that of a rubber band snapping your skin. However, most patients tolerate the procedure well. If the treatment does become uncomfortable, a topical anesthetic cream is available to numb the area being treated.
Are the results permanent?
Because lasers have only been used for hair removal for a few years, we can not know if the results will continue in 10 or 20 years. Most patients will achieve permanent hair reduction and are extremely satisfied with the results of their treatment.
What happens after laser hair removal treatment?
In the first several minutes, the treated area may become slightly red and puffy. This subsides quickly and the areas return to normal within a day. This may feel like a mild sunburn over that time. No bandages are necessary. For some cases, our dermatologists and physician assistants may prescribe a mild topical steroid cream to apply to the treated area for 2-3 days following treatment. If after 3-7 days you feel that hairs are re-growing, most of these are actually treated hairs that are being shed. Do not wax or tweeze any hairs in between treatments.
Come in for a complimentary cosmetic consultation with a member of our dermatology team to see if the laser hair removal treatment is right for your skin tone and type.
Call Chevy Chase Cosmetic Center 240-482-2555 for an appointment in Chevy Chase or 301-345-7375 for Greenbelt today!