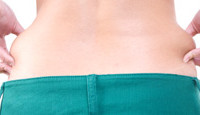 "Hey honey… Have you ever thought about liposuction?"
A question like that just might end up with a shoe, or a tape dispenser, or at the very least: a dirty look thrown your way. But the truth is, if meant with the best of intentions and perhaps phrased a little differently, the gift of tumescent liposuction could be the best you've ever given your spouse or partner.
"Hey honey…
I've been doing some research about tumescent liposuction.
Lipsouction is a cosmetic dermatology procedure (expertly performed in-house at Chevy Chase Cosmetic Center), one designed to permanently remove fat cells and alter the shape of the body. Tumescent liposuction, more specifically, is done with the use of a local anesthetic to numb the area of the body to be treated, before a large amount of a lidocaine- and epinephrine-based solution is inserted into the targeted fatty tissue.
Chevy Chase cosmetic dermatologists choose tumescent liposuction — and recommend that you do, too — because the procedure can often be completed without the aid of general anesthesia. Chevy Chase Cosmetic Center patients are relaxed and lightly sedated, but always completely awake as our highly skilled medical staff work to sculpt and shape the body.
Listen to music or read a book; and leave the outpatient procedure a new you.
But an improved look isn't the only reason to consider liposuction.
Some studies have shown that certain medical conditions can benefit from a tumescent liposuction procedure. Liposuction has improved the severity or appearance of:
Lipomas, benign fatty tumors
Gynecomastia — where fatty breast tissue has developed in men
Lipodystrophy syndrome, a lipid (fat) metabolism disturbance in which there is too much fat in some parts of the body and partial or total absence of fat in other parts, which can sometimes result as a side effect of certain HIV medications
There are many great benefits to liposuction.
But as with any cosmetic dermatology procedure, there are risks too. If you think you, your spouse — or both of you are good candidates for tumescent liposuction:
Contact Chevy Chase Cosmetic Center for a consultation