Spring is here and summer is right around the corner! This is the time of year when you'll be spending more time socializing with friends, family, and co-workers. Right now is the perfect time for non-invasive cosmetic treatments to help you look and feel your best.
This spring, consider Christie Brinkley's secret, pairing skin tightening Ultherapy with wrinkle reducer Xeomin for a full facial rejuvenation. These non-invasive, safe procedures provide dramatic results when combined. During May, recieve an Ultherapy brow lift or full facial Xeomin wrinkle-reducing treatment for FREE with the purchase of a full face and submental or lower face and neck Ultherapy treatment, value $900!!
Ultherapy Lifts and Tightens Skin – With Absolutely No Downtime!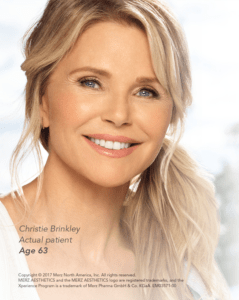 Ultherapy is the only FDA-approved, non-invasive skin tightening treatment available today. This effective treatment uses focused ultrasound technology to stimulate the skin to produce new collagen. Over time, loose skin lifts and becomes tighter, taking years off your appearance. Ultherapy can be used to lift and tighten the skin on the face, neck, and décolletage and works wonders on the jawline and brow. Some other areas that can be treated with Ultherapy is the arms, elbows, knees, thighs and any area where there is sagging, loose skin.
Ultherapy treatments take approximately one to three hours to complete depending on the area(s) treated. Patients can return to their normal activities immediately after treatment, that is, if pain medications are not administered for comfort during treatment. If so, patients will need a ride home and to rest.
Reduce Wrinkles Safely With Xeomin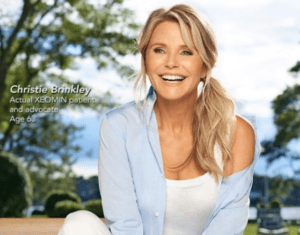 Xeomin is a safe, FDA-approved treatment for moderate to severe lines and wrinkles around the eyes (crows feet), between the eyebrows, and on the forehead. Xeomin is an injectable treatment similar to wrinkle reducers Botox and Dysport. Unlike other injectable treatments, Xeomin does not contain any additives, making the chance of allergic reaction less likely.
Xeomin will last for up to three to four months. There is no downtime, and patients can return to their normal activities immediately following treatment. We advise patients not to work out or lay down for 4-5 hours after treatment.
When combined with Ultherapy, Xeomin helps patients achieve a natural-looking, more youthful appearance. Just look at how young and refreshed 64 year old Christie Brinkley looks having done the same combined treatmen!
Take Advantage of Our Special Offer in May 2018
This May, take advantage of our special offer by combining *Ultherapy with a full facial Xeomin wrinkle reducing treatment or add an Ultherapy brow lift, valued at $900!
It's important to note that Xeomin cannot be administered on the same day as Ultherapy. Patients must wait at least one week after treatment. The Xeomin offer expires three months after initial treatment.
Chevy Chase Cosmetic Center provides a variety of non-invasive cosmetic treatments designed to help their patients achieve stunning results. Please contact us about our spring special.
Come in for a complimentary cosmetic consultation to see if Ultherapy and Xeomin are right for you. Call 240-482-2555 for an appointment in Chevy Chase and 301-345-7375 for an appointment in Greenbelt.