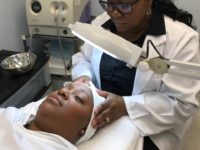 Welcome to our newest aesthetician at our Greenbelt, MD location- Gwen Burns! Gwen is available on Thursdays from 9am to 5pm for facials, chemical peels, and microdermabrasion treatments. *First-time clients with Gwen receive a special introductory rate of $150 for a facial or chemical peel - a $35 savings!
Call 301-345-7375 to make an appointment today!
Learn More About Gwen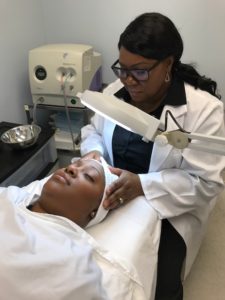 Gwen Burns is a licensed Aesthetician in Maryland, Virginia, and the District of Columbia as well as a member of the Associated Skin Care Professionals. She works on all skin types and conditions and has demonstrated the ability to help prevent and correct problem prone skin conditions such as sun damage, acne, melasma, hyperpigmentation, and rosacea.
Gwen takes pride in beautifying skin from inside out and offers clients the optimal medical grade treatments for their skin type while allowing them to relax and be pampered in her care. Through each treatment, Gwen strives to give her clients the results they are seeking while educating them about the causes of their concerns and how to correct and maintain healthier skin with monthly facials and the proper daily skin care regimen.
Gwen began her journey in the beauty industry as a teenager while enrolled in an afterschool modeling program in North Carolina. She then discovered she had a passion for skin care and an understanding of the boost in self-esteem when people look good, they feel good about themselves.
In later years while living in California, Gwen worked as a professional editorial print model and as a Lancôme Beauty Advisor. During her time working with Lancôme, Gwen's love of skin care lead her to the AVI Training Center in Falls Church, VA, where she received her Master Esthetician license in 2014. Gwen continues her education by attending aesthetics seminars, conferences, and by taking classes to stay abreast of current trends and techniques offered in the ever advancing skin care industry.
Certifications:
Esthetics License & Certification, State of Maryland
Esthetics License, State of Virginia
Master Esthetics License, District of Columbia
Management Esthetics License, Skinceuticals Skincare
Associated Skin Care Professionals