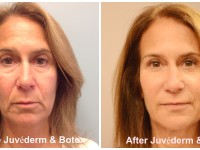 Men and women who want to look more youthful without undergoing the knife are turning to injectable cosmetic dermal fillers, often called a "liquid facelift," to achieve the look they want with little to no downtime or the risks associated with a traditional facelift surgery.
As we age, the collagen and elastin in our skin naturally breaks down, causing unwanted wrinkles and folds to appear. For some people, the cheeks will hollow out, deep dark circles will appear under the eyes, lips will loose their fullness, and marionette lines will appear around the mouth. These skin issues are easily corrected with dermal filler treatments. There are several brands on the market today, including Juvederm and Juvederm Voluma, the latest and only FDA-approved filler specifically for cheeks and midface.
What is a Liquid Facelift?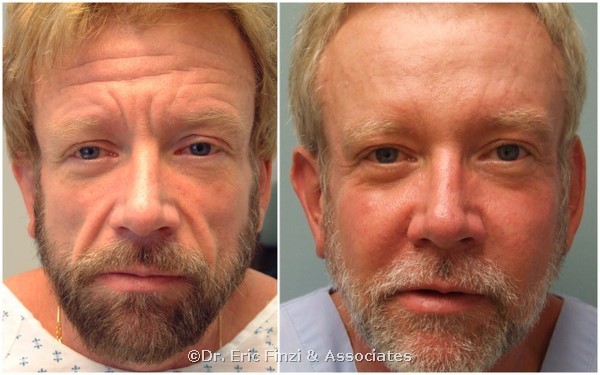 Full facial correction is easily achieved combining the three types of injectable treatments: Botox Cosmetic to soften the wrinkles around the eyes and forehead, Voluma to lift the cheeks and Juvederm to fill in the marionette lines.
JUVÉDERM® is the first and only non-surgical dermal filler FDA-approved to instantly smooth moderate to severe wrinkles and folds around your nose and mouth, lips and cheeks for up to one year with optimal treatment. Juvederm Voluma, the only FDA-approved filler for the cheeks, will last up to two years. 
JUVÉDERM® Benefits
Offers instant, natural-looking results for up to one year with optimal treatment,
Juvederm is a non-surgical procedure. The injection can be performed in our office.
Contains lidocaine which improves comfort during treatment
Made with proprietary HYLACROSS™ technology.
From the #1 selling family of dermal fillers in the US.
JUVÉDERM® non-surgical filler has been studied in all skin types.
You will be able to see the results of JUVÉDERM® immediately.
JUVÉDERM® is fairly inexpensive when compared to facial plastic surgery.
JUVÉDERM® is considered safe and its side effects are comparable other dermal fillers.
JUVÉDERM® requires no allergy testing, as the hyaluronic acid it contains is human-based and safe.
See if Is JUVÉDERM® Right For You
To see if JUVÉDERM® is right for you, contact us for a free consultation at either our Chevy Chase or Greenbelt, MD locations.