Microdermabrasion Medical Grade Exfoliation
Microdermabrasion treatments are offered on Wednesdays and Thursdays in Chevy Chase, MD, with Ninka, our licensed medical aesthetician.
The one-hour treatment includes a personalized facial and microdermabrasion followed by moisturizer and SPF application. Cost: $185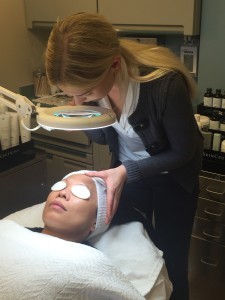 Microdermabrasion is a medically-based, in-office treatment designed to exfoliate and rejuvenate the skin. During a microdermabrasion session, a powerful, yet gentle machine uses vacuum pressure to move tiny crystals over the skin's surface to remove dead cells, improve sun damage, stimulate collagen, and circulate more blood and oxygen to the surface resulting in fresh, healthy-looking skin. Not to be confused with "at-home" kits that simply exfoliate the skin, this treatment should always be performed in a physician's office by medically trained and supervised clinicians. We recommend combining a series of five treatments, 2 to 3 weeks apart, along with SkinCeuticals professional skin care products to improve sun damage, acne scars, fine lines and wrinkles, and overall tone and texture of the skin.  Although microdermabrasion treats most skin types and conditions, the procedure is not suitable for active cystic acne or sensitive skin.
Call Chevy Chase Cosmetic Center for an appointment with Ninka today!