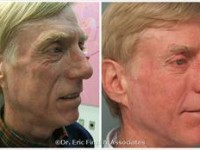 May 2015 Special Savings
All Cosmetic Dermal Fillers we offer at a savings of $50, $150 and up to $900!
Travel tote gift pack containing Obagi Medical's Elastiderm Eye Cream and Hydrate Luxe Moisture Rich Cream for $150 - a $30 savings PLUS you'll receive a beautiful travel tote for FREE while supplies last.  See below for details!
Dermal Fillers Special
*up to $900 + Additional Rewards Program Savings!
$50 Off One 1mL Syringe of Any Filler
$150 Off Two 1mL Syringes of Any Filler
Purchase Three 1mL Syringes of Any Filler, 
Get One 1mL Syringe FREE, 
a $600 - $900 Savings
At the Chevy Chase Cosmetic Center, our dermatology team's most popular in-office cosmetic procedure is a injectable treatment known as a liquid facelift. Gaining in popularity because of its ease and little downtime, dermal fillers made of hyaluronic acid are used to restore fullness to the cheeks, lips, under eyes and marionette lines. It is combined with Botox or Dysport to reduce wrinkles around the eyes, brows and forehead. For the majority of our patients, the results are remarkable, yet subtle and natural looking. They tell us they look like they did years ago and it has greatly improved their confidence and self-esteem. 
Want to Know What to Expect?
In the nine minute informational video, you will meet Ginny, a 60 year old patient of Dr. Angela Lotsikas, who had four 1mL syringes of Juvederm gel and three areas of Botox Cosmetic injected for a more youthful, refreshed appearance.
Save Even More Money on 
Dermal Filler Treatments
SIGN UP FOR THESE REWARDS PROGRAMS:
Brilliant Distinctions Program
from Allergan, the makers of Juvederm, Voluma and Botox Cosmetic
Sign up and earn points towards cash savings on Botox Cosmetic, Juvederm, Voluma and Latisse eyelash thickening kits. 
If you are already a BD member and have accrued value, don't forget to print your voucher and bring it to your next appointment for additional savings at check-out!!
A New Rewards Program Starting in May!
Aspire Rewards Program
From Galderma, the makers of Restylane, Perlane and Dysport 
Join Aspire Rewards program and you will receive bonus points towards savings at check-out, PLUS:
A $20 reward for becoming a new member
Refer a friend and receive 100 points
 View "Beauty Bonus" online and earn points! It's that simple!
Call 240-482-2555 for an appointment in Chevy Chase, and  301-345-7375 to make an appointment in Greenbelt, MD
Photorejuvenation Treatment
up to a $500 Savings
with the Purchase of Ultherapy
Full Face or Décolletage!
Reduce Brown Spots with IPL
For Total Rejuvenation
Ultherapy
is the only non-surgical cosmetic procedure that uses focused ultrasound to stimulate the growth of new collagen deep within the skin. The production of new collagen occurs over time, so results can become more apparent over three to six months. The procedure takes only about an hour for most patients, and there is no downtime. It also is the only procedure to use ultrasound imaging, which allows us to actually see the layers of tissue we target during the treatment and ensure the energy is deposited precisely to where it will be most effective.
IPL
treatments address the effects of aging and sun damage with low risk of complications and no recovery time. This FDA-approved, patented technology provides dramatic results for a variety of benign conditions, including age spots, sun-induced freckles, symptoms of rosacea, birthmarks, unsightly veins and acne scarring.
Ultherapy is FDA-Approved for Décolletage!
Combined, Ultherapy and IPL will greatly improve the tone and texture of your skin!
*IPL treatment must be taken within one month after Ultherapy treatment to be eligible for FREE offer.
Call 240-482-2555 for an appointment in Chevy Chase, and  301-345-7375 
to make an appointment in Greenbelt, MD
Obagi Skin Care Gift Pack
$150
a $30 savings AND receive a 
*FREE Travel Bag
You will love the way Obagi luxurious hydrating cream will soothe your dry skin by adding moisture back in. Combined with the ElastiDerm eye cream, you will look and feel refreshed and rejuvenated! This offer is for while supplies last. Call us to order your gift tote package today!
Call 240-482-2555 for an appointment in Chevy Chase, and  
301-345-7375 to make an appointment in Greenbelt, MD
We offer a complimentary cosmetic consultations with a member of our board-certified dermatology team who will help you on your path to younger looking, healthy, more vibrant skin!